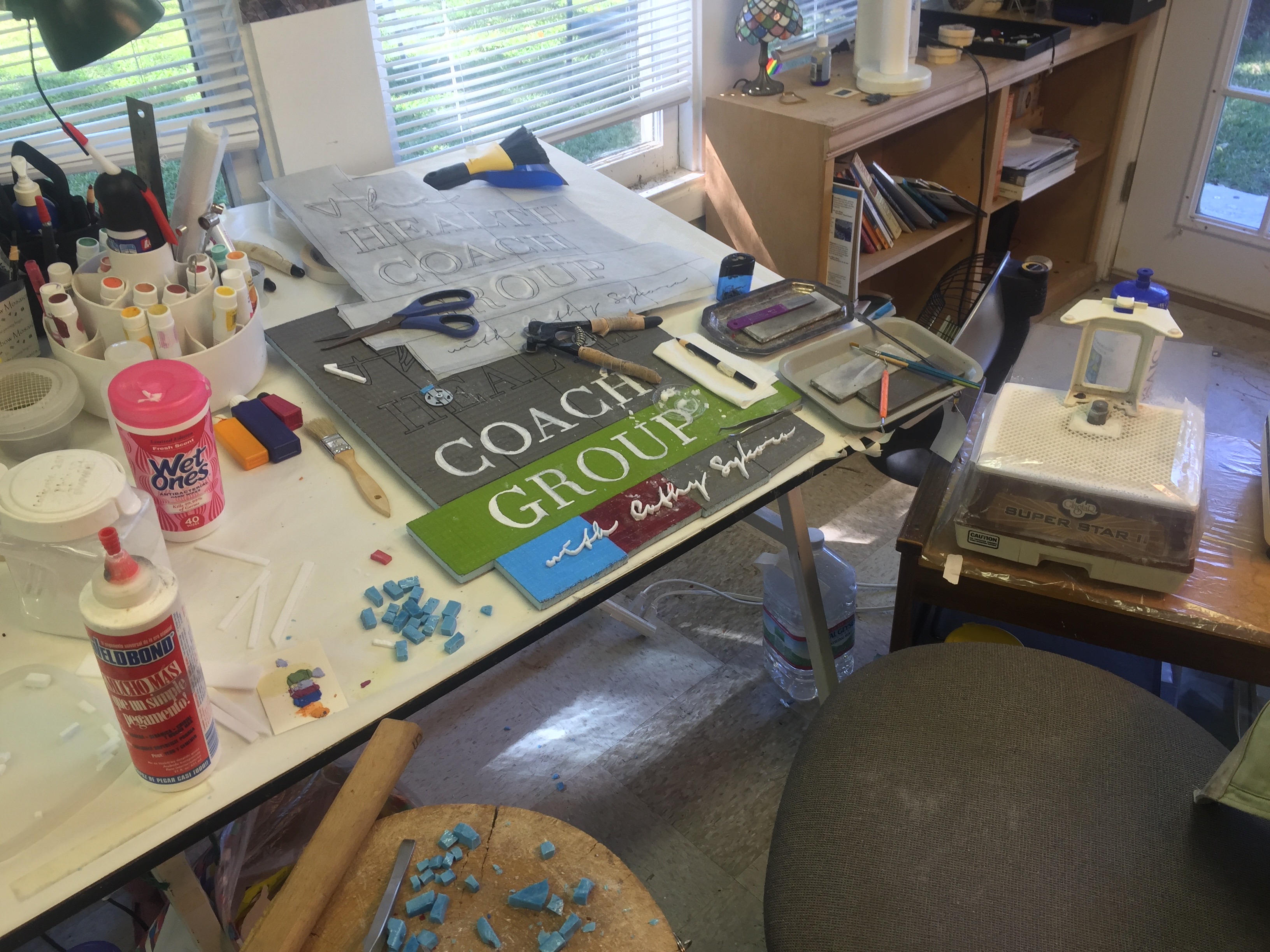 Over the years my process of creating a mosaic has evolved a bit but it still starts with a similar process.  You have to start with an idea. Art starts with an inspiration. Once you're inspired by something, you have to decide how you want to convey it.  Is there a story you're trying to tell or just making something for the sake of its beauty.
There are many ways to start a mosaic. You can start with a substrate, and just start creating, or you can plan everything out first. There really is no right or wrong unless you are doing a commission. When someone commissions you to do a mosaic, it is important to start with a design for them to approve. If you are lucky enough to have a client that gives you free reign to create a piece, it is not necessary to create a design first as long as you get them to sign off on a concept.
I tend to start with a drawing when I am doing a 2-dimensional piece. If I'm doing a 3-dimensional mosaic, I tend to wing it and go with the flow. It also depends on the size. If I am doing a larger piece that requires me to purchase supplies for it, I will plan more and start with a drawing. This way I can purchase the right amount of supplies. I always make sure I order 25% additional for cutting waste.
Other things to keep in mind is how you plan on hanging or framing your piece. If using Wedi, it is important to make sure you put your hangers in before you start your mosaic. I've made this mistake before and it's no fun to go back and fix it.
Deciding on the method of your mosaic needs to come before you start. Direct, indirect, direct on mesh, etc. Then you need to decide on your andamento. Other things to keep in mind are elements and principals of design, color and value of your tesserae. All of these play a part in your mosaic. I know it sounds like a lot, but if you break it down into simple questions, you can create beautiful mosaics.
There are so many different ways to create a mosaic and you can spend a lifetime doing all the different styles and techniques. I recommend that you pick one style to start with and decide if you like it. If you do, become better at it, then if you want to try other styles, pick something that inspires you.
If you want to dig deeper into planning your mosaic and the elements and principals of design, join my Foundations course which starts on February 27th. http://learnmosaics.com/foundations-in-mosaics/
For the love of mosaics!
Karen Sasine