I have been following Julie's art for years and was first drawn to her beautiful smalti work.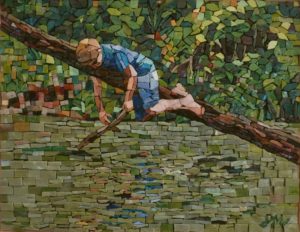 This piece is in a private collection and is created out of Italian, MDM smalti.
This weekend I had the privilege of getting to see quite a few other mosaics of hers at the Acworth Cultural Arts Center in Acworth, Ga. The show, A Dance of Color and Light had works from the Atlanta Glass Art Guild.  Getting to see mosaics up close is always a treat. Julie beautifully layers glass to create wonderful 3-dimensional pieces using various glass. To see more of her work, visit http://mazzonimosaics.webs.com/.  If you would like to learn more about Julie and her work, please join me for my Expert Artist series on Mosaic Monday. You can find the link or recording on Mosaic Mentoring.