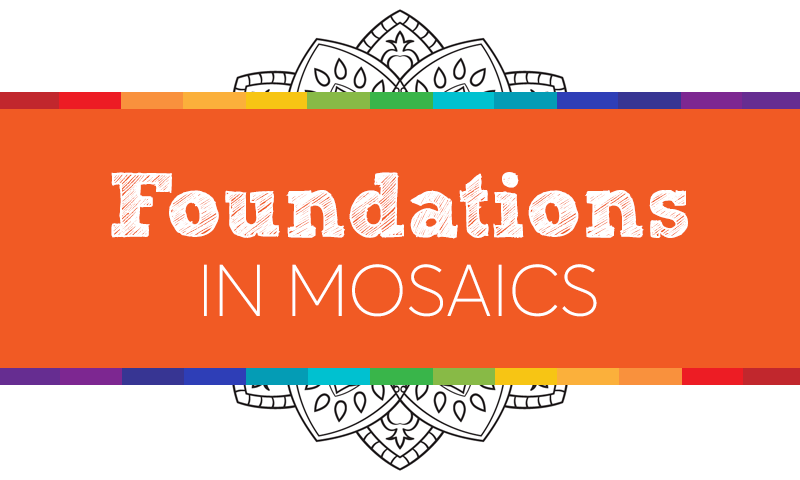 What are the most important things you need to know when starting Mosaics?
When you start anything new, it's important to create a solid foundation, and mosaics is no different.
As I think about the building blocks of mosaics, what comes to mind? First and foremost, knowing all the terms. Mosaic speak is a funny language. I remember going to my first SAMA (Society of American Mosaic Artists) conference after only just started mosaics and I thought I was in a different country. What is smalti, andamento, grout, thinset, WIP, etc… So much to learn. So having a good working knowledge of the mosaic terms is important.
Knowing what supplies to have in your studio is next. What do the pros have in their studio and why? I always love seeing other artists studios. You can learn so many valuable tips and tricks from each and every artist. This is when I became a container junkie. Who else raised their hand and said, "OH YEAH! I'm a  container junkie also" One day I would love to go to the container national convention. Wouldn't that be fun?
When I first started mosaics, I was amazed at the variety of tesserae that was out there. I spent the first 10 years of my career playing with all the fun materials available. From unglazed porcelain, glazed ceramic tiles, vitreous, to smalti, and so much more, I had a blast exploring what each could do.
Understand what tools to use can be a bit tricky. There are so may kinds of nippers and glass cutters, and understanding what each is best for I find valuable. One of the best ways to try different tools is to visit other studios.
Planning is key to getting things done. When you start a mosaic, if you have a plan, the process from start to finish is much smoother. As an artist, my nature likes to go with the flow and not plan, but when I do commissions, it's imperative that you plan out every step. Understanding how many tiles to purchase so you don't overshoot your budget is key. Learning how to enlarge a cartoon, so it fits on your substrate can be confusing. I was so lucky to have my father, an engineer always available for quick calls to help me figure out the square foot calculations.
Practice makes perfect. The best way to master something is to do it over and over again. Cutting techniques are no exception. I have been trying to master hammer and hardie for years and still haven't got the hang of it.
Understanding which adhesives and substrates to use was probably the most confusing and costly for me. I've made a lot of mistakes over the years. Haven't we all. The most important thing to think of is whether your mosaic is going to be indoors or outdoors. Understanding freeze/thaw for both tesserae, adhesives as well as substrates means the difference of your mosaic lasting a few years vs. many generations.
Lastly, grout. Who else laughs at the daily "What color grout" question? We all ask it all the time. It can make or break your mosaic. The best method right now is to use dry grout and sprinkle some in to see what it looks like. Stay tuned for a better solution. Head over to www.rainbowmosaics.com to sign up for my newsletter to learn more.
If you are interested in my eight-week online Foundations course,  join my Facebook waiting room HERE. https://www.facebook.com/groups/Foundationswaitingroom/   I will be sharing information and answering questions as we get closer.
For the love of mosaics!
Karen Sasine