Every year, The Society of American Mosaic Artists (SAMA) holds a wonderful conference for mosaic artists. This year it was held in Detroit, and what an amazing wee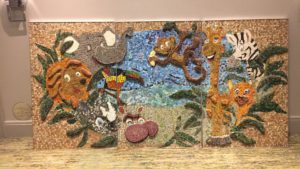 k it was!  We started the week with workshops and the the Mosaic Marathon which is always a highlight for so many. We all get together and create a mosaic to be installed in the host city. I'll never forget the time I got to sit next to Julie Richey (www.julierichey.com) and watch her work. What an experience it was getting to see how she cuts and places her tiles. She gave me some wonderful words of wisdom when I asked her how she makes her mosaics so beautiful. She said, "Create beautiful lines" Something I take with me always and I was reminded of it this year.
I took 3 workshops this year. For the second time, I had the privilege of learning from Guilio Menossi and this year I took so much away from it. One, to leave space to let your tiles breathe. Some mosaics require very tight spaces but working with smalti in the way he was showing us, we needed to leave some breathing room. We also practiced andamento and beautiful lines. As always, the workshop challenged me to grow as an artist.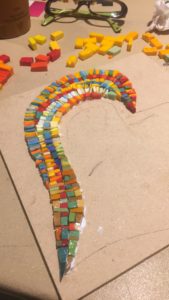 The Chicago Mosaic School offered a critique workshop and we were all excited to have an amazing visiting artist, Verdiano Marzi. The most important thing I learned from this workshop was to think about your andamento and DRAW. Practice… Everyday. The only way to become a better artist is to practice. Mosaics are about lines. Beautiful lines… The better lines you draw, the better your mosaic. Think about the andamento. Study andamento from ancient mosaics and practice.
The MAI show (Mosaic Arts International) was amazing this year! Getting to see such magnificent mosaics up close gives you such a different experience than seeing them online or in pictures. I was so excited to be able to see Donna Van Hoosier's "Does This Make Me Look Fat" (Member's Choice winner) in person sent goosebumps through my body! There were no words to describe how perfect it was. She uses Wasser Glass, which is no longer in production.  Each piece was so perfectly placed.
After struggling with my smalti face that I had been working on, getting to see this was so inspiring. Being able to look closely at the andamento, the values of the tiles and how she laid them helped me to see how I could improve next time.
If you would like to see more of the MAI show, check out #samadetroit2017.
The Vendor Marketplace was a big success this year with my introduction of The Kit and various mosaic supplies. Check them out on my supplies page. I am also starting Foundations in Mosaics again on May, 22 with a SAMA special of 50% off. If you are interested, check out http://learnmosaics.com/foundations-in-mosaics/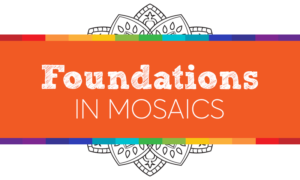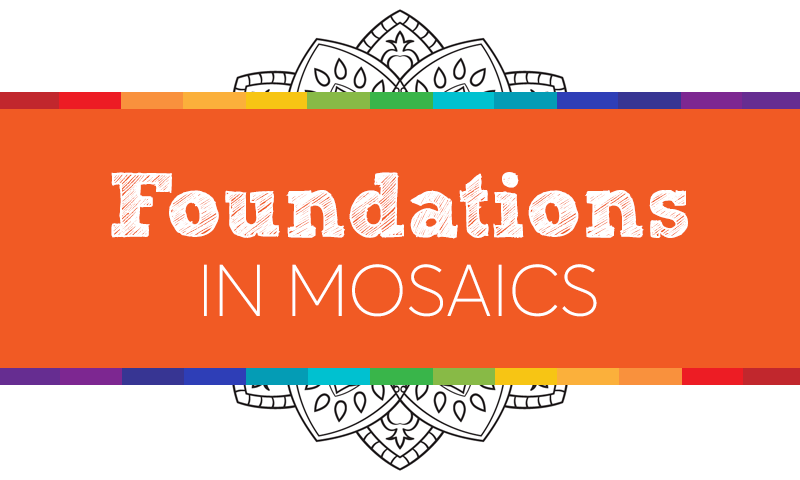 For the love of mosaics!
Karen